Trakt Is Back For All Apps Including KODI Addons

Trakt API Back Working Again
Since the latest Trakt crash, a lot of Video On Demand streaming apps and KODI addons stopped working or at best had limited functionality. Since December 20th though, Trakt got their API fully working again! The team twitted about it:
Trakt API is back online for all apps! We're seeing a huge influx of traffic, but the servers scaled up to handle it. If an app isn't working, please re-authenticate your Trakt account.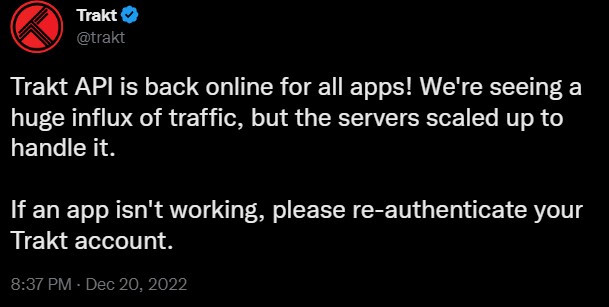 What is Trakt.tv
Trakt.tv is a website and community for tracking television shows and movies. Users of the site can track the shows and movies they are watching and share their progress with others. The site also offers recommendations and personalized suggestions based on a user's watching history. Trakt.tv is very popular among users of media center applications such as Kodi and Plex.
What Exactly Happened
On December 11 at 7:30 PM Pacific Standard Time (PST) Trakt experienced a crash. The crash resulted in the corruption of some of the site's data. The team at Trakt.tv worked around the clock to restore the affected data, but the process was very slow due to the large amount of data involved.
Now, with Trakt back again when connecting to the main website, there is a brief announcement by the team:
Data prior to November 7 is fully restored.
Watched history between November 7 and December 11 has been recovered. There is a separate message on your dashboard allowing you to review and import any recovered data.
All other data (besides watched history) after November 7 has already been restored and imported.
Some data might be permanently lost due to data corruption.
Trakt API is back online as of December 20.
Active VIP members will get 2 free months added to their expiration date.
How To Fix KODI Addons & APKs
Most of the third-party KODI addons and streaming applications should be working fine, but if yours isn't working there is another step you might want to do. Some of the applications, especially KODI addons need to repeat the reauthenticate process with Trakt in order to work. And in some cases, or better still do it either way, you need to revoke authorization and then reauthorize Trakt again. In this way, you will be 100% sure that the service will work and your addon will too.
This is the case for Seren, an addon that absolutely needs Trakt in order to work. By using Trakt, Seren is sorting all kind of content: movies and tv shows. Even the search functionality didn't work without it. But not that Trakt is back working again you should have no issues if you follow the method above.
Two Months For Free
Trakt added for all active VIP members 2 free months to their expiration date, a gesture for asking forgiveness for this disservice and a lot of users are super-happy again!
https://dimitrology.com/wp-content/uploads/2022/12/trakt-is-back-data-recovery.jpg
500
1078
Dimitrology
https://dimitrology.com/wp-content/uploads/2019/11/WEBSITE-LOGO-2020-SMALL.png
Dimitrology
2022-12-21 23:52:37
2022-12-21 23:52:39
Trakt Is Back For All Apps Including KODI Addons