How to Reset Fire Stick & Fire TV Amazon devices easily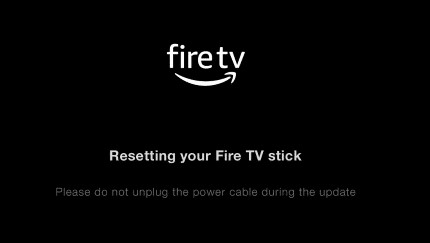 The Amazon Fire Stick provides an easy and inexpensive way to stream live TV, movies, series and all kind of media. That is why I recommend it as one of the best TV Boxes that you can get. However, due to its limited memory storage, it may experience certain performance issues. That is mainly because is being loaded up with too many apps or downloads. This is a reason of why you might need to reset the Fire Stick to its factory defaults. To free up its memory and get it working like new again. This is a super easy process to do. Just follow the following tutorial on how to reset Fire Stick and Fire TV devices from Amazon.
Also if you need to sell your Amazon Fire Stick / Fire TV device it is highly recommended you reset your device. By resetting your Fire Stick device you will return to a Factory Defaults state. That means you will erase any personal data, app or information in general that you obviously do not want to pass to the next user of your device.
Reset To Factory Defaults
Pay attention though. If you reset your Fire Stick / Fire TV device to the Factory Defaults you will lose any personal preferences, apps and most importantly sign-in information!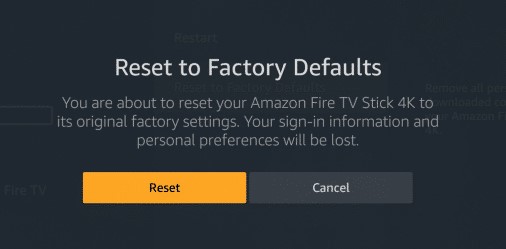 How To Reset Fire Stick & Fire TV
Go to Settings.
Then select Device.
Now scroll down and select Reset to Factory Defaults.
If you have a PIN set up, enter it. If not skip this step.
Select Reset.
Wait for the reset to take place and you're done!
How To Reset Fire Stick & Fire TV Method 2
There is also an easier way if you want to use a shortcut that Amazon developers supply. This method doesn't work across all devices so I decided to have it as a second option here:
Press and hold the Back and Right buttons from your remote simultaneously.
Keep pressing for about 10 seconds until the reset screen appears.
Now select Reset.
Wait for the reset to take place and you're done!
Congrats! Your Amazon Fire Stick / Fire TV / Fire TV Cube device is now to its original factory settings. You erased your sign-in information, apps and personal preferences. If you plan into using your device again you should enter all of your personal information from scratch and download the apps you like. So, you might consider visiting our Download section for apps. Those can be very useful also for the Fire Stick / Fire TV devices here.
If you liked this tutorial on how to reset the Amazon Fire Stick / Fire TV make sure to share it with friends and family. Sharing is caring!
Looks like you have blocked notifications!
https://dimitrology.com/wp-content/uploads/2019/12/How-to-Reset-Fire-Stick-Fire-TV.jpg
243
430
Dimitrology
https://dimitrology.com/wp-content/uploads/2019/11/WEBSITE-LOGO-2020-SMALL.png
Dimitrology
2019-12-18 11:41:58
2019-12-18 11:56:10
How to Reset Fire Stick & Fire TV Amazon devices easily