Low price Windows 10 Pro license with exclusive coupon
If you are looking for the best prices for Windows 10, Whokeys offer should undoubtedly interest you. It is a reputable seller and with very aggressive offers. The offer is for a global OEM license, meaning valid worldwide. OEM stands for Original Equipment Manufacturer and indicates PC manufacturers. These licenses, in other words, were created by Microsoft specifically for companies like Acer, Dell, Asus, HP, and so on. Once you have placed the license in the cart, by entering the DM20 coupon code you can get an additional 20% discount and have the Windows 10 Pro key license for only 13,45 euro / 14,05 USD. An unbeatable price!
More offers from WHOKEYS and our coupon
The offers are not limited only to Windows 10 Pro Key but also on other software. We've selected the best in the list below:
Windows 10 Pro OEM– 13,45 euro (after 20% coupon DM20)
Windows10 Home OEM – 11,89 euro (after 20% coupon DM20)
Office 2016 Pro – 36,95 euro (after 20% coupon DM20)
Office 2019 Pro – 33,42 euro (after 20% coupon DM20)
Windows10 PRO OEM+ Office2016 Pro Plus– 46,15 euro (after 20% coupon DM20)
Windows 10 Pro OEM+ Office 2019 Pro Plus - 41,01 euro (after 20% coupon DM20)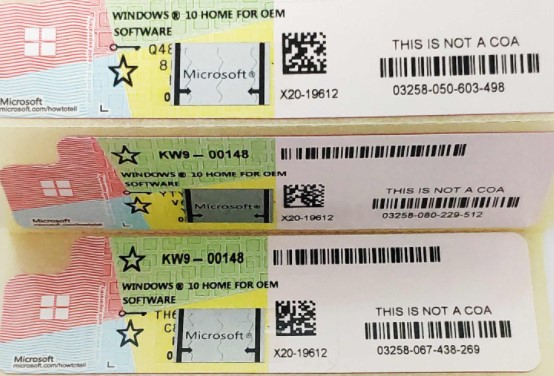 Is an OEM license legal though?
To answer it briefly, yes it is totally legal. Microsoft themselves informs us, with a page dedicated to the topic on their official website. In summary, even though Microsoft's licenses are dedicated to companies that make PCs, a consumer can buy one legally (and it's even legal to sell it) if they're building a new PC. Indeed, specifies the Microsoft page, even a technician who prepares the computer for his customer can do it. "A system builder is anyone who assembles, reassembles or installs software on a new or used computer. This product does not violate any copyright, trademark or other type of right ".
How to apply the coupon
Add the license you want and then proceed to check-out. You may need to create an account which is always useful in case of assistance.

2. Below the product's name, there is a Promotion Code box, enter the code DM20 for 20% off. Next click on "Apply". Now the new price should be like this:

3. That's it! Just select the payment method and in a few minutes, you will receive an email with the license code. In some cases, the email may arrive in your SPAM folder so make sure to check it out too since sometimes that kind of email gets recognized as such. You can also see the license from your user account panel, after some minutes in order for WHOkeys to verify the payment went correctly. And they have live support for any kind of issues 24/7.
https://dimitrology.com/wp-content/uploads/2020/10/WHOkeys-Autumn-SALE-Windows-10-PRO-OEM-KEY-ONLY-13.png
342
800
Dimitrology
https://dimitrology.com/wp-content/uploads/2019/11/WEBSITE-LOGO-2020-SMALL.png
Dimitrology
2020-10-21 17:32:05
2020-10-22 09:28:10
WHOkeys Autumn SALE: Windows 10 PRO OEM KEY ONLY $14 / €13!