This week many avid torrenters were taken by surprise when two of the largest pirate sites stopped adding fresh content.
Both EZTV.io and YTS.lt didn't have any new torrents for several days. This unusual hiatus, which eventually ended a few hours ago, remains unexplained thus far.
---
⇒ BEYOND BLACK FRIDAY SALE – Save 73% on IPVanish VPN. This discount expires soon. By using IPVanish you get:
10 simultaneous connections on multiple devices
24/7 customer support
Native apps for Android TV, Android, iOS, Mac, Linux, and more OS
Access all Kodi add-ons with Ipvanish / Access Kodi anonymously
Tier 1 hardware (no speed slowdown)
Prevent ISP Throttling
User-friendly apps for all of your devices
Zero traffic logs
7 day money back guarantee
The ability to be configured right at your router, for a hassle-free experience.
⇒Click here to get IPVanish VPN Discount service now and stay worry-free!
---
While some were ready to call the end of the sites, it's more likely that they were hit by some kind of technical hiccup. However, that doesn't mean that there are no other issues behind the scenes at the moment.
As we reported earlier, YTS has already been hit by two separate complaints filed by movie companies in US courts this year. While it may not be directly related to this week's problems, another lawsuit has just been added to this growing list.
In a complaint filed at a Hawaii federal court, Wicked Nevada, the company behind the biographical thriller "Extremely Wicked, Shockingly Evil and Vile," accuses the site of contributing to widespread copyright infringement of the film.
In addition to going after the site's unnamed operator, the lawsuit also targets 16 "John Does" who are accused of downloading and sharing a copy of the movie that was uploaded by YTS. These "Does" are subscribers of ISPs Spectrum, Hawaiian Telcom and Verizon.
"Defendant JOHN DOE has made the torrent file 'Extremely Wicked, Shockingly Evil, And Vile (2019) [WEBRip] [720p] [YTS.AM]' available to users in Hawaii such as Defendants DOES 1-16, the United States and the entire World to download from its interactive YTS website," the complaint reads.
The complaint displays a lot of similarities with the lawsuits that were filed earlier. For example, it mentions that the YTS.lt domain was registered by the now-dissolved UK company Techmodo Limited. In addition, it mentions that the torrent site uses the services of a variety of US-based companies.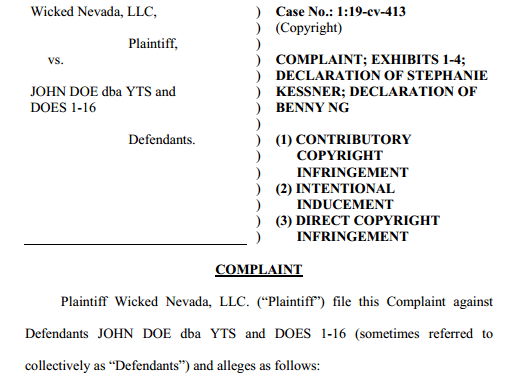 Cloudflare, for example, is mentioned as a hosting and nameserver provider. The movie company used this US connection to obtain a subpoena and find out more about the alleged operator of the torrent site. This revealed that the Cloudflare account in question was logged into by AT&T, Spectrum, and Verizon Wireless IP-addresses.
Whether these IP-addresses have anything to do with the operator remains a question, of course, as this person could also have used an IP-obfuscation tool such as Hola, which routes traffic over the IP-addresses of other people. That would actually make sense, as the account was also logged into by a VPN IP-address and from the TOR network.
"Defendant JOHN DOE further uses the Virtual Private Network provider London Trust Media (Colorado) and even the Onion Router exit relays of the US Naval Research Labs in Washington, DC and an individual in Texas to conceal its login records to its Cloudflare account when operating the interactive websites," the complaint reads.
With the lawsuit, the movie company hopes to recoup some of its alleged losses. It accuses the YTS operator and its users of contributory and direct copyright infringement, while tagging on a claim of intentional inducement against the former.
Wicked Nevada also requests an injunction to stop the defendants' infringing activities and to prevent third-party intermediaries such as hosting companies, domain registrars, and search engines, from facilitating access to the YTS domains. Ultimately, the company hopes to shut the site down.
Again, these claims are very similar to those made in the previously filed cases against YTS.
All in all, the three lawsuits make YTS the most sued pirate site in the US that we know of. It's worth noting that all these cases are filed in the state of Miami by the same attorney, Kerry Culpepper, who represents quite a few movie outfits.
It's not entirely clear to us what the reason is for filing separate lawsuits, as these companies could also bundle their powers. However, with every added lawsuit, the rightsholders may believe that they are getting closer to the operator.
This week, Wicked Nevada requested two new ex-parte motions for a subpoena. These motions are sealed, so we don't know which companies it targets, but it will likely be another effort to obtain more information.
That brings us back to the issues YTS and EZTV faced over the past several days. While we can only speculate at this point, it's possible that the legal pressure caused the sites, which may be interconnected, to lose a hosting provider. That could explain the temporary lack of new content.
For now, however, we can only speculate. That said, with YTS being the most visited torrent site on the Internet, the lawsuits are well worth keeping a close eye on.
—
A copy of the complaint filed by Wicked Nevada at the US District Court for the District of Hawaii is available here (pdf).
Source: TF, for the latest info on copyright, file-sharing, torrent sites and more. We also have VPN reviews, discounts, offers and coupons.
Looks like you have blocked notifications!
https://dimitrology.com/wp-content/uploads/2017/08/computerkeyboardfeat.png
250
1200
Dimitrology
https://dimitrology.com/wp-content/uploads/2019/11/WEBSITE-LOGO-2020-SMALL.png
Dimitrology
2019-08-08 23:59:45
2019-08-08 23:59:45
Torrent Mogul YTS is Being Sued By Yet Another Movie Company