Terrarium TV October 2018 Working Version Fix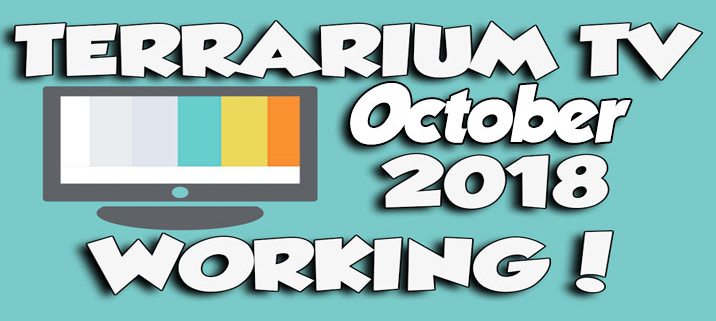 Terrarium TV October 2018 Working Version
So news is that Terrarium TV has officially shutdown. And while that is true, thanks to a modded version (called Terrarium TV Reborn) you can now have it back working again and fully functional! In the following tutorial I'm gonna show you how you can install the Terrarium TV October 2018 Working Version (called also Terrarium TV Reborn) without the need to install another app outside of the Google Play Store. All you need is to simply download it and install. That's all to it!
Take also a piece of advice to have always your mind in peace especially now since the developer has pushed a notification claiming that your IP is being traced. While most probably this is a scaremonger move from the developer who still has access in the notification system, in order to make people uninstall the app (the app was tracing your IP even before the modded version), it is a good piece of advice to use always a VPN so you will nothing to have to worry about. Use a VPN when using streaming content so you can be anonymous online and also avoid any ISP throttling. Make sure to always use a trusted and secure VPN like IPVanish which may be a paid service but it offers great speeds as well.
How to install Terrarium TV October 2018 working version
If you still have Terrarium TV on your device, now is the time to uninstall it in order to install the Terrarium TV October 2018 Working Version. By uninstalling the app without clearing the data you will still keep all of your settings. If you do not know how to uninstall data, chances are that you will not remove them, so simply select uninstall as in any of your apps.
FireStick TV / Fire TV and Android TV (like the NVidia Shield TV) devices make sure to download the app Downloader from the Amazon Store or Google Playstore (depending on which device you have. On all other Android devices like a smartphone, TV Box, etc you can skip this step.
Download the app from the following link: https://bit.ly/2OgKQZf . If you have the Downloader app installed then enter the link in the app in order to download Terrarium TV Modded Working October 2018 version.
When the download finishes, select to install the apk. In case you do not have an automatic launch of the app installer, then open your File Manager app and go to Downloads Folder, there you will find an apk called TerrariumFTV_mod.apk, select this in order to install it.
Boom Shakalaka Baby, you have successfully installed the latest Terrarium TV October 2018 Working Version and it should last for a good 1 year!
→ Please note that you need the MX Player app as well in order to play the video files – stream the movies / tv shows on your device. In case you do not have it already you can easily install it from the Amazon Store / Google Play Store.
Looks like you have blocked notifications!
https://dimitrology.com/wp-content/uploads/2018/10/Terrarium-TV-Fix-October-2018.jpg
326
716
Dimitrology
https://dimitrology.com/wp-content/uploads/2019/11/WEBSITE-LOGO-2020-SMALL.png
Dimitrology
2018-10-11 07:41:02
2018-10-11 19:13:59
Terrarium TV October 2018 Working Version Fix