How To Install Official Android 9 P On The OnePlus 6 OxygenOS 9.0 OTA

Great news for all the OnePlus 6 owners: Android 9 P (Pie) has been officially released by the OxygenOs team and OnePlus with the OnePlus 6 OxygenOS 9.0 OTA! Now this is a "staged" release meaning that only some users will get the update early and you might need to wait for the OTA release to be available for you too and install it but hey, who wants to wait? So if you are like me and can't stand waiting, here is the guide on how to install the latest official OxygenOS 9.0 OTA on your OnePlus 6 device that brings the Official Android 9 P. Attention, this release and update procedure only works if you have an official stable version on your device. In this way you will not loose any data (photo, apps, app data, etc) since this is a dirty install.
If on the other hand you come from an Android 9 P beta version, then you need to go back to a stable Android 8 version and then reboot and update as below. On this downgrade you need to do a clean install (that means you will loose everything on your device so make a backup!)
The file size of the OxygenOS 9.0 update on OnePlus 6 is about 1521MB, although it may differ on certain units. Changelog of the update, as posted on OnePlus forums, includes an upgrade to Android Pie, a new Do Not Disturb (DND) mode that comes with certain adjustable settings, a new Gaming mode 3.0 with a text notification mode and notification for third party calls, and support for accent colour customisation.
Flashing Official Android 9 P On The OnePlus 6 OxygenOS 9.0 OTA Instructions:
First you need to download the new OTA ROM: Full Rom OOS 9.0 Android Pie Official | AFH | Mega (MD5: 729a80d88b973ded34c10f602554f01d) on your root folder of the OnePlus 6. If you download the ROM from your phone, after the download finishes, use File Manager to move the file in your root directory.
Now go into Settings
Select System
Then select System Updates
Tap on the upper right corner on the cog icon – Settings
Select Local Upgrade
And lastly choose the downloaded file.
Wait for the process to finish and the device to reboot.
The whole process should take up to 10 minutes so be patient! After a while, Boom Shakalaka Baby, you will be on Android 9 P with the Official OxygenOS 9.0 OTA release!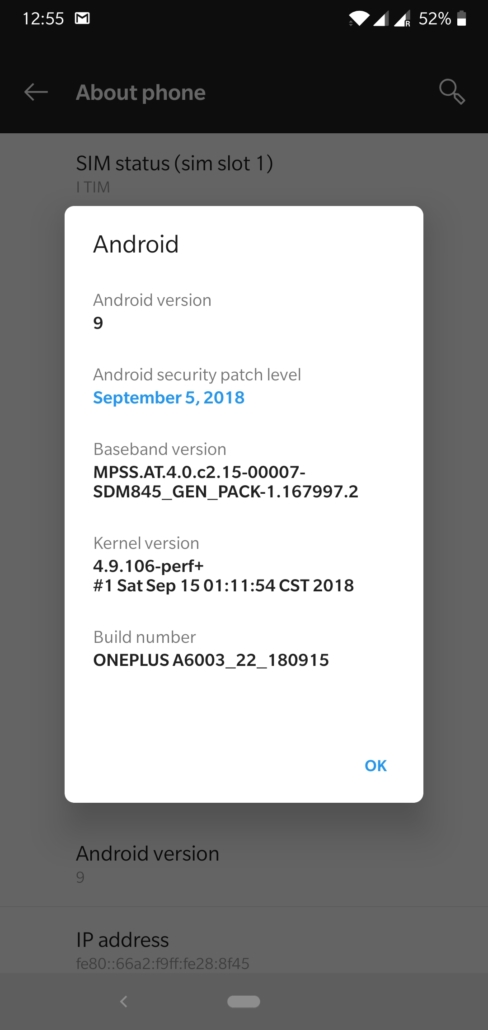 Changelog:
Updated system to Android™ 9.0 Pie™
Brand new UI for Android Pie
New adaptive battery support
New Android Pie gesture navigation
Updated Android security patch to 2018.9
Other new features and system improvements
Do Not Disturb mode New Do Not Disturb (DND) mode with adjustable settings
New Gaming mode 3.0 Added text notification mode
Added notification for 3rd party calls
Accent color
Supported accent color customization
https://dimitrology.com/wp-content/uploads/2018/09/OxygenOS-9.0-for-OnePlus-6.png
512
998
Dimitrology
https://dimitrology.com/wp-content/uploads/2019/11/WEBSITE-LOGO-2020-SMALL.png
Dimitrology
2018-09-23 13:20:19
2018-09-24 13:27:30
How To Install Official Android 9 P On The OnePlus 6 OxygenOS 9.0 OTA