Hollywood Studios Flag Their IMDb Listings as "Pirate" Links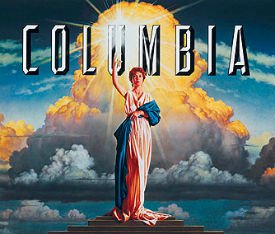 Every single day, largely automated bots scour the web for references to pirated content.
These links are then reported to various online services, such as Google, requesting the operators to remove the allegedly infringing content.
This works fine, most of the time. But, in common with their human counterparts, these bots aren't perfect. This was made painfully visible last month when Topple Track had to disable its reporting tool after it triggered a wave of faulty takedown notices.
That was not an isolated incident though. None of these takedown tools are perfect.
Over the past few weeks, we noticed another worrying trend. Suddenly, Google started to receive a lot of DMCA notices for the Internet Movie Database, with the majority of these requests coming from the UK-based reporting agency Entura International.
Since it's unlikely that the movie site, which has been operating legally for 27 years, had suddenly gone rogue, something else must be up.
We decided to take a closer look at the reports in question, which were sent on behalf of well-known companies including Columbia Pictures, National Geographic, and Sony Pictures Television. Most of the links in these notices indeed reference classic pirate sites.
Good notice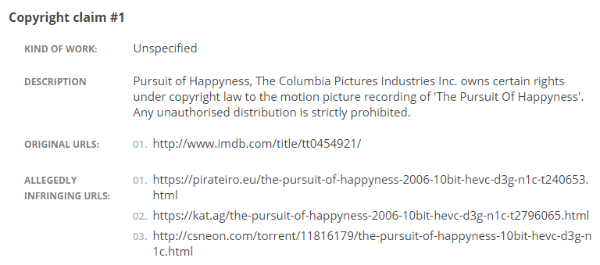 The IMDB links are mostly used as a reference to the original content. However, it appears that due to a bug in the system the IMDb links move to the "infringing content" field when there are no pirate links to report, as shown below.
Bad notice


This is a rather obvious bug. However, after several weeks it has yet to be corrected. As a result, Google has been asked dozens of times to remove legitimate IMDb URLs from its search results.
TorrentFreak reached out to Entura to report this issue, and request a comment, but at the time of writing, we have yet to hear back.
Google, meanwhile, has widely put IMDb on its whitelist. This means that none of the inaccurately reported links have been removed. However, a smaller or relatively unknown site may not be that lucky, when it comes to these type of mistakes.
Source: TF, for the latest info on copyright, file-sharing, torrent sites and more. We also have VPN reviews, discounts, offers and coupons.
Looks like you have blocked notifications!
https://dimitrology.com/wp-content/uploads/2018/06/botfea.jpg
250
1200
Dimitrology
https://dimitrology.com/wp-content/uploads/2019/11/WEBSITE-LOGO-2020-SMALL.png
Dimitrology
2018-09-03 00:00:52
2018-09-03 00:00:52
Hollywood Studios Flag Their IMDb Listings as "Pirate" Links