Game of Thrones Piracy Peaks After Season Finale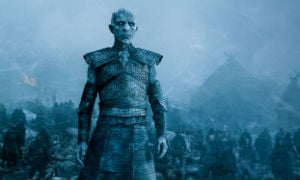 The seventh season of Game of Thrones has been the most-viewed thus far, with record-breaking TV ratings.
Traditionally, the season finale is among the most-viewed episodes of the season. This is true on official channels, but also on pirate sites.
Despite numerous legal options, Game of Thrones remains extremely popular among pirates. Minutes after the official broadcast ended last night people flocked to various torrent and streaming sites, to watch it for free.
Looking at the torrent download numbers we see that the latest episode is topping all previous ones of this season. At the time of writing, more than 400,000 people were actively sharing one of the many available torrents.
Some of the more popular GoT torrents

While the demand is significant, there is no all time "swarm record" as we saw two years ago.
In part, this may be due to improved legal options, but the recent rise of pirate streaming sites and services are also 'stealing' traffic. While there is no hard data available, millions of people now use streaming sites and services to watch pirated episodes of Game of Thrones.
Record or not, there is little doubt that Game of Thrones will end up being the most pirated show of the year once again. That will be the sixth year in a row, which is unprecedented.
In recent years, HBO has tried to contain piracy by sending DMCA takedown notices to pirate sites. In addition, the company also warned tens of thousands of BitTorrent downloaders directly. Nonetheless, many people still find their way to this unofficial market.
While HBO has grown used to mass-scale piracy in recent years, it encountered some other major setbacks this season. Hackers leaked preliminary outlines of various episodes before they aired. The same hackers also threatened to release the season finale, but that never happened.
There were two episode leaks this year, but these were unrelated to the aforementioned. The fourth episode leaked through the Indian media processing company Prime Focus Technologies, which resulted in several arrests. Two weeks later, HBO Spain accidentally made the sixth episode public days in advance, which spread online soon after.
On the upside. Piracy aside, the interest of the media and millions of 'legal' viewers appears to be on a high as well, so there's certainly something left to celebrate.
Source: TF, for the latest info on copyright, file-sharing, torrent sites and ANONYMOUS VPN services.
https://dimitrology.com/wp-content/uploads/2017/07/got-thrones-feat.jpg
250
1200
Dimitrology
https://dimitrology.com/wp-content/uploads/2019/11/WEBSITE-LOGO-2020-SMALL.png
Dimitrology
2017-08-28 21:41:51
2017-08-28 21:41:51
Game of Thrones Piracy Peaks After Season Finale