Do you really need a VPN for IPTV?

IPTV, which means Internet Protocol Television, is gaining a lot of popularity over the years around the world. People in every country have been using it more and more each year in order to cut the cord and to watch their favourite content. However, you may also heard that is best when using IPTV to have a certain level of protection, that is also true when it comes to the use of pretty much anything on the internet these days. And the best way for protecting yourself online is a VPN. But, do you really need a VPN for IPTV? In my opinion the answer to that question is an absolute yes but let's also explain why. Also by using a reliable and secure VPN like Surfshark you will make sure to be invisible and protected online.
IPTV is monitored
IPTV is typically closely monitored, meaning that if you use it without protection, you might find yourself monitored as well. You may have heard the latest news regarding Xtream Codes and the privacy issues that were created from it. Some IPTV use may involve streaming copyrighted material and this makes it topic open to debate. But with that in mind, it is important to protect your privacy online. What you watch is no one's business but yours, and it should stay that way. That doesn't mean we condone streaming copyright material and you should ensure whatever IPTV services you're using are completely legal and you have the rights to be watching them. But since in some cases that is also not always easy to control, making sure your privacy is protected by using a secure VPN like Surfshark will let you sleep safe at night.
IPTV streams suffer from ISP bandwidth throttling
This is not always the case but unfortunately it is becoming a trend lately among ISPs. Not just for IPTV but also other streaming sources like Netflix, Youtube and more, are suffering by this bad practise of some ISP that is throttling, meaning intentional slowing the internet service. This is their way to limit usage of not promoted applications by the specific ISP and forcing to subscribe to their own services. In a lot of countries that is illegal, but not in the United States anymore. Even if in some countries this is illegal, there is no real control and it is also hard to prove, so some ISP are abusing their ability to control your internet speed. By using a secure VPN there is no way for the ISP to know what you are actually doing online so that they can limit your speed. So in order to avoid buffering, using a VPN is a really wise choice. Surfshark makes sure to bypass internet throttling, giving you back your real internet speed whatever you do online.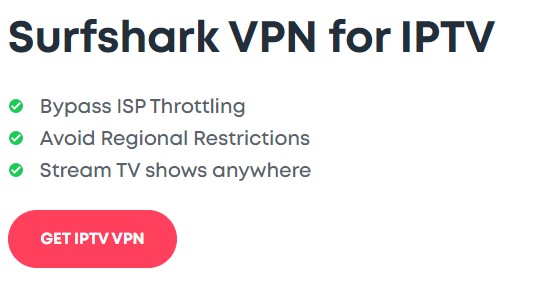 Some IPTV is Geo blocked
Some IPTV services are geo-blocked. That means that will only work for some geographical locations and if you are not living in one of them, you wouldn't be able to access them. But one of the advantages of using a VPN is that you get to choose which country's server you want to use. That means that you can live for example in Europe but still be recognized as a US resident by those services. And this applies not just for IPTV but also other streaming (or not just streaming) services as well. But make sure to use a reliable VPN like Surfshark with different servers worldwide and that can guarantee optimal speeds.
Looks like you have blocked notifications!
https://dimitrology.com/wp-content/uploads/2019/10/Do-you-really-need-a-VPN-for-IPTV-1.jpg
327
870
Dimitrology
https://dimitrology.com/wp-content/uploads/2019/11/WEBSITE-LOGO-2020-SMALL.png
Dimitrology
2019-10-05 18:07:52
2019-10-07 16:53:16
Do you really need a VPN for IPTV?