BOOM SHAKALAKA KODI BUILD UPDATE v1.90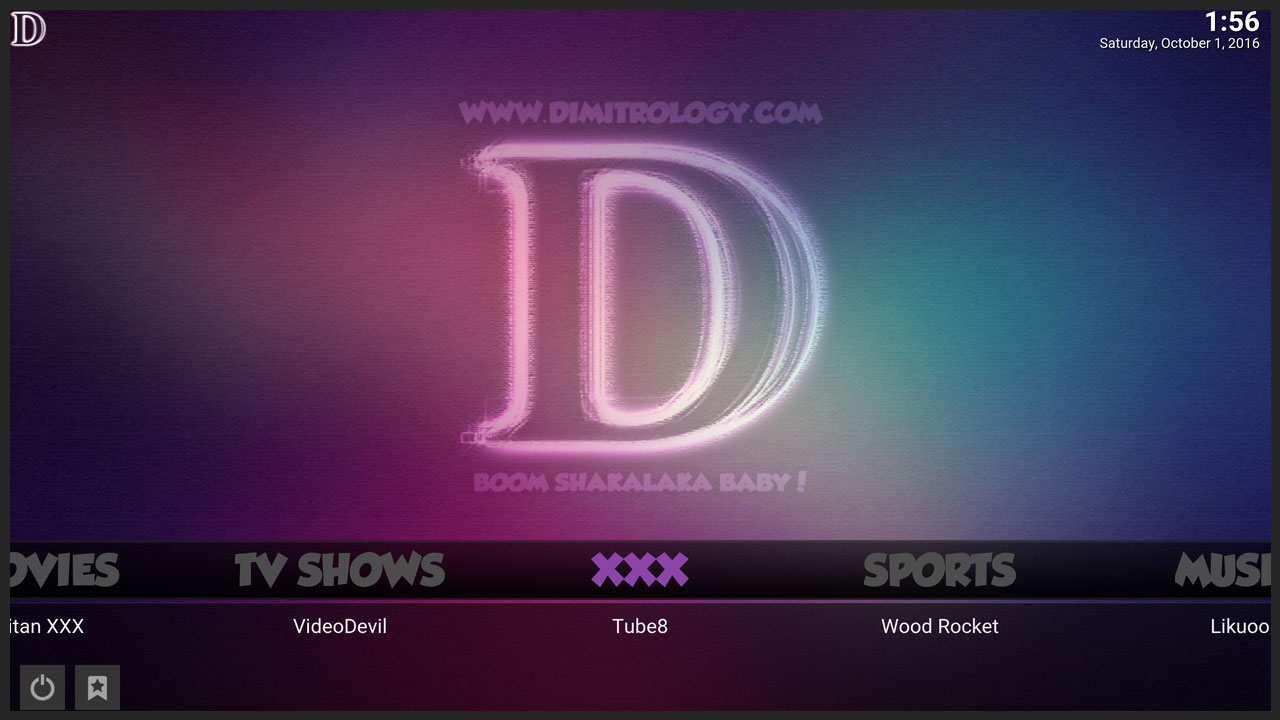 The best build on KODI just got better! Boom Shakalaka KODI Build updated into version 1.90 and other than the recent addons that were discontinued, I also fixed some bugs for some devices like for example the screen resolution and the custom wallpapers.
Speaking of wallpapers, the Boom Shakalaka KODI Build now has different background. As a matter of fact it's more than one and since some of you requested it I had to oblige! :) Also do not forget the Schism Program Addon, Easy Wallpapers. You can download from KODI various wallpapers and I have it already customized to work with the settings.
Also, Jokers TV was added, EliteTvIptv (you will need a free password from their facebook group), Renegades Channels, Fixed some Mettaliq errors, Echo Wizard and Echo TV Guide. Some other addons too which I do not remember right now 'cause it is really late for me and need sleep.
The Boom Shakalaka KODI Build is exactly the same in the two different version with the only difference the XXX section. So select the Boom Shakalaka XXX KODI Build if you want the same awesome experience but just a little more spicy! :P
I hope you will enjoy the new update, has some minor fixes too into the addons in order to make a blazing fast but also complete KODI experience! For more info on the builds, requests and feedback (which is always welcome) here:
Boom Shakalaka KODI Build Forum Section: https://www.dimitrology.com/forum/index.php/board,23.0.html
Boom Shakalaka KODI Build Facebook Group: https://www.facebook.com/groups/Dimitrology/
HOW TO INSTALL:
1. On a fresh installation of KODI (do always a Fresh Start before installing builds) go under SYSTEM and select FILE MANAGER from the submenu
2. Select ADD SOURCE
3. Click on NONE and enter https://dimitrology.com/repo and click on DONE
4. Select OK
5. Go to HOME
6. Select SYSTEM
7. Select ADDONS
8. Select INSTALL FROM ZIP
9. Click on repo from the list and select plugin.video.wizardology.zip (lovely name, I know)
10. Wait for the notification that Dimitrology Builds has been installed
11. Go to HOME
12. Select PROGRAMS
13. Open Dimitrology Builds
14. Select INSTALL NOTE: if you didn't do a Fresh Start before select FRESH START to delete everything inside KODI
15. Select BOOM SHAKALAKA Build
16. When asked do a KODI FORCE CLOSE. On Windows, Lunix, MAC OS you just click on OK. On Android, iOS devices (TV BOX, Firestick, etc) unplug the device from the power cable or use the Memory Manager to close the KODI App (ex. Android Phone).
17. Open KODI and BOOM SHAKALAKA BABY!!!
IMPORTANT: If you come from another Build Version, select UPDATE BUILD in order to select to save your Favorites, Trakt and Real Debrid details!
METHOD FOR ANDROID DEVICES ONLY:
UNINSTALL KODI (if already installed) and INSTALL THIS: http://bit.ly/2cHia5m
* special thanks to bugatsinho for the apk
Looks like you have blocked notifications!
https://dimitrology.com/wp-content/uploads/2016/10/DimiXXX.jpg
720
1280
Dimitrology
https://dimitrology.com/wp-content/uploads/2019/11/WEBSITE-LOGO-2020-SMALL.png
Dimitrology
2016-10-01 00:40:13
2016-10-01 00:56:08
BOOM SHAKALAKA KODI BUILD UPDATE v1.90