Members of Congress Question Google CEO about YouTube's Content-ID System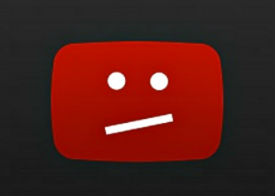 To protect copyright holders, YouTube uses an advanced piracy recognition system that flags and disables videos that are used without permission.
This system, known as Content ID, works well most of the time, but it's not perfect. In recent years it's been heavily criticized by YouTube users and rightsholders alike.
YouTubers, for example, have repeatedly complained that their content has been inaccurately claimed. On the other side, there are tens of thousands of copyright holders who would love to join the Content ID program but are not allowed to.
For now, YouTube's Content ID system is limited to a few thousand participants. These are claimants which own the exclusive rights to a "substantial body of material" that is "frequently uploaded" by YouTube users. In other words, not the average indie creator.
This exclusivity is a thorn in the side of smaller artists, who instead have to manually go through YouTube to find infringing content. While that's no different from any other site on the Internet, they feel left out and disadvantaged by the video streaming site.
This issue hasn't gone unnoticed by US lawmakers. This week, a group of eight members of Congress, including Sen. Marcha Blackburn, Sen. Christopher Coons, Rep. Jerrold Nadler, and Rep. Adam Schiff, invited Google CEO Sundar Pichai to a roundtable discussion specifically about Content ID.
The members explain that they are quite content with Google's copyright enforcement efforts, but they are also concerned that smaller content creators are being left out.
"We are concerned that copyright holders with smaller catalogs of works cannot utilize Content ID, making it more difficult or impossible for them to effectively protect their copyrighted works from infringement and, ultimately, impacting their livelihoods," they write.
The lawmakers stress that many copyright holders have been denied access to Content ID. While they are still able to take infringing content down manually, they have to do more work than some larger competitors and with fewer resources.
"We have heard from copyright holders who have been denied access to Content ID tools, and as a result, are at a significant disadvantage to prevent the repeated uploading of content that they have previously identified as infringing," the letter explains.
"They are left with the choice of spending hours each week seeking out and sending notices about the same copyrighted works, or allowing their intellectual property to be misappropriated," they add.
The Congress members hope to obtain more insight into the matter during a roundtable, where representatives of the creative community will also be present. They've prepared a set of questions for Google's CEO, which they hope to have answered.
Among other things, the members want to know how the Content ID system works, what type of rightsholders are able to join now, whether Google plans to open it up to more rightsholders, and if it will be expanded to other Google services, such as Blogger.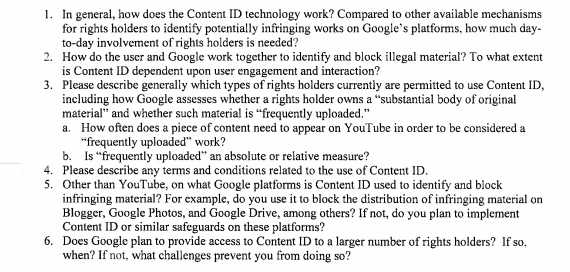 The entire roundtable appears to be limited to the perspective of external rightsholders. There is no mention of the many inaccurate claiming requests YouTubers (who are also content creators) complain about, nor is Content ID abuse on the agenda.
The goal of the roundtable is clear. The Congress members want YouTube's Content ID system to be available to a wider range of rightsholders, as clearly indicated in their closing words.
"Again, we appreciate the efforts that you have made to combat distribution of infringing content on YouTube. Given its apparent benefits to rights holders, we hope that you will consider making Content ID and the benefits it provides available to a larger category of content creators."
—
A copy of the letter the Members of Congress sent to Google CEO Sundar Pichai is available here (pdf), via IPWatchdog.
Source: TF, for the latest info on copyright, file-sharing, torrent sites and more. We also have VPN reviews, discounts, offers and coupons.
Looks like you have blocked notifications!
https://dimitrology.com/wp-content/uploads/2018/04/congressfea.png
250
1200
Dimitrology
https://dimitrology.com/wp-content/uploads/2019/11/WEBSITE-LOGO-2020-SMALL.png
Dimitrology
2019-09-06 19:09:18
2019-09-06 19:09:18
Members of Congress Question Google CEO about YouTube's Content-ID System