After Xtream Codes Shutdown Now Also IPTV Smarters Was Removed From Google Play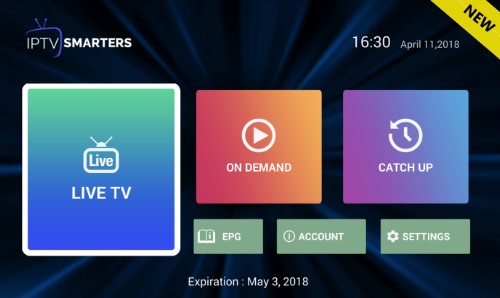 Not that long ago, Xtream Codes was taken down as a result in a joint police task force from Italy and several other European countries under the Eurojust agency of European Union. And this case is really something we follow a lot since it's complex nature. The platform, even though it can be used by "IPTV pirates" is totally legal and therefore it is very unique as a case. But following this case, another case of legal software related to IPTV has appeared, even though in a smaller action.
IPTV Smarters Pro, an IPTV related software that users can find on Google Play and Apple's App Store was deleted from the Android App Store, aka Google Play. That was followed by a complaint that has not been specified yet. But what we know is that there is clearly a war on IPTV right now. While this is expected, what is strange is that the IPTV Smarters software is not related nor affiliated with any subscription based IPTV service.
What is IPTV Smarters Pro
IPTV Smarters is a video player that works on both Android and iOS devices. Unlike other video players that handle local media, this application handles online streams and streaming playlists. That is in plain words, live and video on demand streams. While this seems suspicious, the application does not supply or include any media or content. So, in order for the users to actually use it they need to provide their own content. One important thing to notice that makes the connection bigger among IPTV Smarters and Xtream Codes is the fact that the application supports Xtream Codes API.
IPTV Smarters Disclaimer
The company and developers behind IPTV Smarters is New Spark Technology and in order to avoid confusion had already placed a disclaimer as a popup on their website before this take down. That happened in order to explain they do not endorse or guarantee the use of their software by third parties for "streaming and subscriptions".
New Spark Technology & WHMCS Smarters (We) does not endorse or guarantee the use of its softwares by third parties for streaming and subscriptions. We respects the Intellectual Property rights of others and does not endorse any of the Intellectual Property violation by third parties. Linking of New Spark Technology, WHMCS & IPTV softwares to any of the third party links or platforms does not constitute any of the its endorsement or sponsorships. New Spark Technology only provide software solution to its global clients under WHMCS & IPTV platforms. New Spark Technology is not liable for any misuse of its software by the third parties. For more details Click Here for Terms of Service.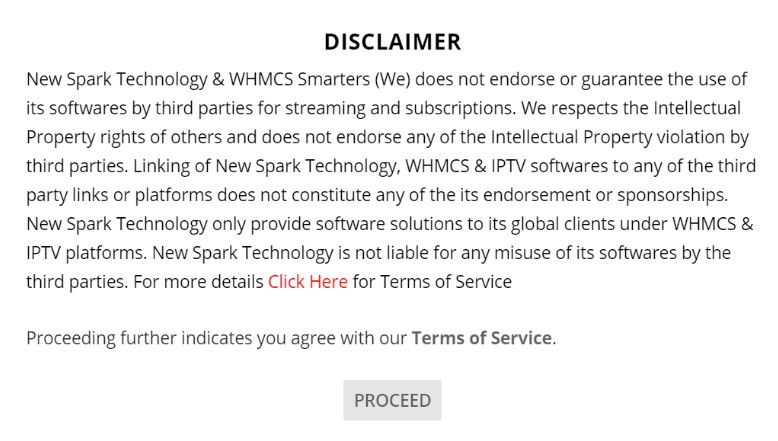 As far as we can tell, that didn't stop the complaint for its removal. While such a take down has happened before, it is also suspicious the timing. Could it be just a coincidence? It may. But the matter of fact is that everything that has to do with Xtream Codes and IPTV is under the radar lately.
iOS Version Is Still Online
At the time of writing this article, the App Store version of IPTV Smarters is still online and therefore still installable on iOS devices. For more you can find it here. And generally Apple is more strict when it comes to reviewing and publishing third party application on the App Store. We shall wait and see if they will follow as well or in the meantime the Android version should reappear online.
Devs Are Confident To Be Back Soon
In response to the removal after the complaint the New Spark Technology company has commented that they are confident to be back soon. In their opinion and after consulting their lawyers this was a false complaint. To their knowledge this is the third time that a complaint was filled and they have already executed a procedure in order to clear the issue. And while we appreciate their confidence, fact is that the war on IPTV is still ongoing.
Looks like you have blocked notifications!
https://dimitrology.com/wp-content/uploads/2019/10/After-Xtream-Codes-Shutdown-Now-Also-IPTV-Smarters-Was-Removed-From-Google-Play.jpg
298
500
Dimitrology
https://dimitrology.com/wp-content/uploads/2019/11/WEBSITE-LOGO-2020-SMALL.png
Dimitrology
2019-10-09 11:27:05
2019-10-09 11:27:07
After Xtream Codes Shutdown Now Also IPTV Smarters Was Removed From Google Play